1. DEFINITION
The purpose of ventilation installations is to reduce to the lowest possible level the quantity of pollutants whose damaging effects on humans are recognized or suspected.
2. PRINCIPLE OF DIMENSIONS OF A VENTILATION INSTALLATION
There are two types of ventilation:
Local ventilation:
Source capture of pollutants
The general ventilation:
dilution of the pollutant in the work environment
In general, the cost of an air purification installation depends more on the quantity of air to be treated than on the quantity of the pollutant to be extracted: the flow rate used to capture pollutants thus conditions the other parts of the installation (extractors, piping, and filtration equipment). Optimized capture will allow a reduction in installation and operation costs.
As a result, source capture must always be prioritized.
The conception of a ventilation installation must take into consideration different phases:
a. Pollution removal or reduction on the process
b. Pollutant Capture
c. Extraction and transport of pollutants
d. Filtration of pollutants
e. Air recycling or compensation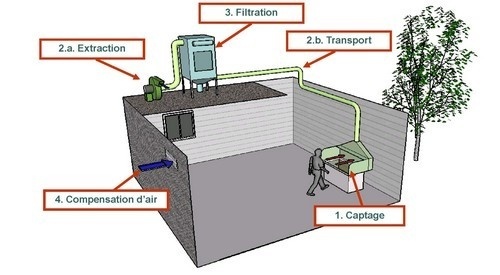 3. METHODOLOGY OF A SOURCE CAPTURE
This phase requires a detailed study of the pollutants and their toxicities, the environment and the ergonomics of the workstations. For the collection device, the following rules must be observed:
a. Enclose the emission source as much as possible. (cowling)
b. Capture as near as possible to the transmission area
c. Install the aspiration captor in such a way that the operator is not placed between the source and the capture device.
d. Use the natural movement of the pollutant
e. Induce sufficient air velocity
f. Spreading the capture air flow uniformly
4. TRANSPORTATION OF POLLUTANTS
The air velocity in the pipes must be chosen according to nature and properties of the pollutants.
The transport speed is an essential factor for air evacuation networks containing dust: It must be over the minimum value in order to avoid dust sedimentation and blocking of the pipes. The higher the density and size of the particles, the higher the transport speeds.
If the pollutants are only gases or vapors, the transport speed should be chosen so as to make a balance between the installation and operation costs.
The table below drawn up by the ACGIH (*) gives, as an indication, minimum speeds for different cases of polluted air.
Example of pollutants Minimum velocity
Smoke 7 to 10 m/s.
Very fine and light dust 10 to 13 m/s
Dry dusts and powders 13 to 18 m/s
Medium industrial dust 18 to 20 m/s
Heavy dust 20 to 23 m/s
Heavy and damp dust > 23 m/s
5. AIR RECYCLING AND COMPENSATION
When can we recycle the air?
When the pollutant is dust and if this pollutant has no specific effect (e.g. CMR) it is possible to recycle the air after filtration.
Air compensation
Often ignored, air compensation is an important element in a ventilation system.
Air compensation allows to:
Ensure the correct working of capture devices.

Eliminate disturbing air flows.

Ensure air renewal.