OUR EXPERTISE IN AERONAUTICS AND DEFENSE
Aeronautics concerned about its environmental impact
The manufacture of airplanes, helicopters, rockets (…) requires great precision at all levels: aerostructure, fuselage, engine manufacturers, interior trim, surface treatment, landing gear, electronic control systems… and aeronautical maintenance . The manufacturing processes are meticulous and the various constituent elements of the devices require machining operations, deburring, welding, grinding, sanding, assembly, cleaning, tests …
During these operations, it is essential to maintain a clean and healthy working environment, which guarantees the quality of the finished parts. The operations emit explosive dust – carbon, composite, aluminum classified up to ST3 – and explosive gases – kerosene vapors, acetone, solvents … WATTOHM offers suction and filtration solutions aimed at protecting people, machines and the work environment (link to the "Our missions" page)
The pollutants emitted are subject to regulations on concentrations at workstations, and manufacturers must comply with the VLEP, VME or VLE in force. Certain products are now classified CMR – Carcinogenic, Mutagenic, Reprotoxic – by INERIS. In this context, it is mandatory to design and implement effective and continuously monitored collective protection equipment.
The major players in this sector are also subject to significant rhythms, they have made the Quality of Life at Work a major issue to recruit and retain their employees.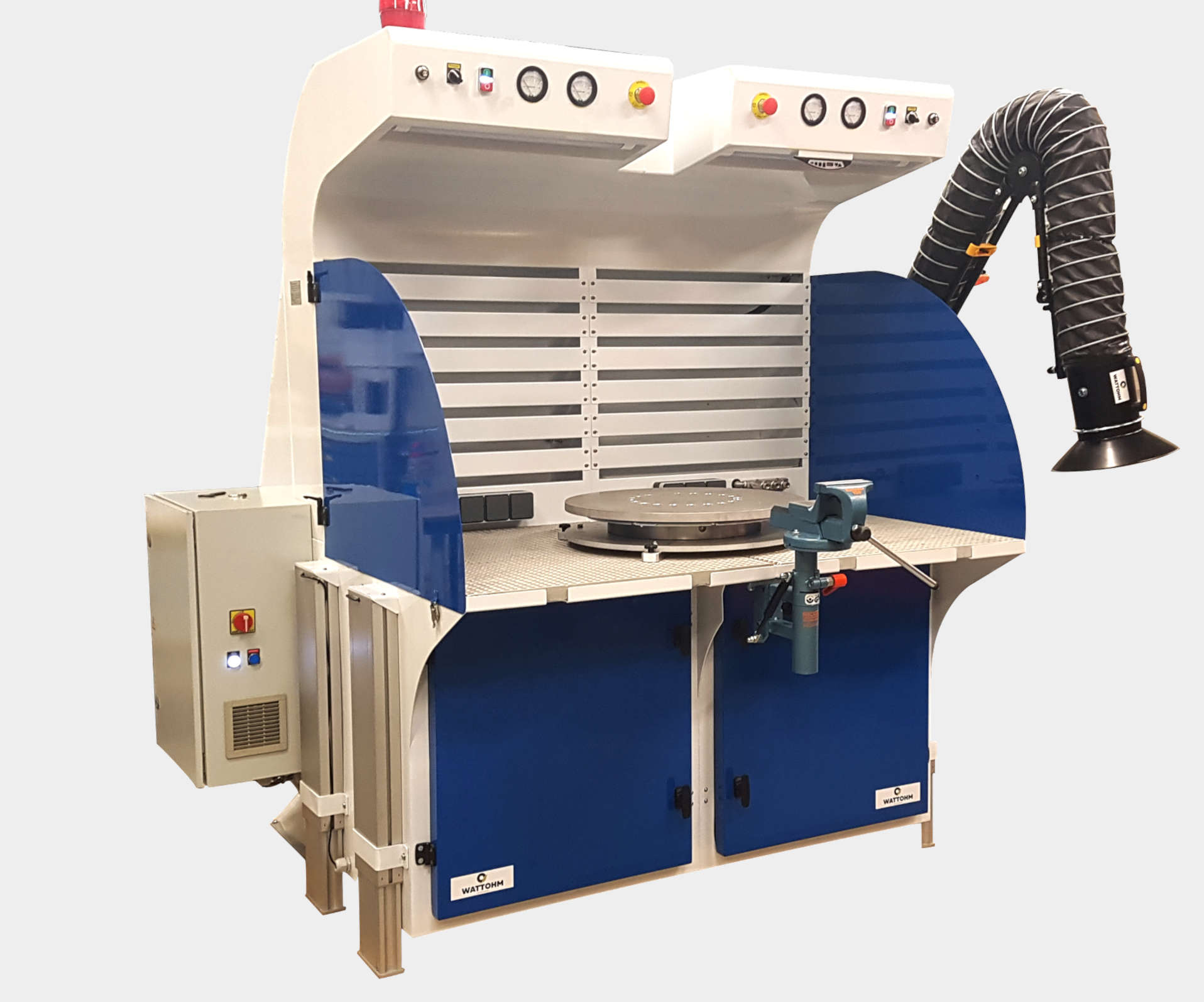 Our solutions dedicated to the aircraft industry
WATTOHM offers dedicated solutions, suction devices on dust highly charged with static electricity such as carbon, or composite … dust collectors, and vacuum cabinets and tables for touch-up, sanding and manual deburring operations …
WATTOHM designs and builds tailor-made installations, for example:
Oil mist extraction
Pneumatic chip extraction and transport on machining lathes, machining lathes, 3 and 5 axis centers, UGV …
Extraction of aluminum chips on UPA (Automated Drilling Unit
Suction of vapors on the preparation, cleaning and gluing stations
Extraction and filtration of soldering and welding fumes
Ventilation of Kerosene tanks
Suction and filtration of overspray from painting operations with the presence of chromium VI
WATTOHM also offers, in synergy with its partner, solutions dedicated to Laser applications: engraving fumes, cutting, marking, welding and all additive manufacturing processes ULT Luftechnik
Our aeronautical culture
We intervene to size the suction and filtration devices in accordance with the recommendations of the INRS, in compliance with the specifications of the principals.
Our team dedicated to the aeronautical sector is familiar with the habits of the sector and will be able to meet the specific demands of the sector "worldwide" …
WATTOHM wanted to register its approach in the aeronautical sector by joining the GIE QUALITE, and is part of the Aerospace Valley competitiveness cluster.